Article source: homify
Kitchen tables and chairs can be merged together to create a single kitchen bar. If you choose a space in your kitchen for the bar, you can create a really stylish design and the perfect spot for some funky or trendy stools. This can be used for breakfast, coffee catch-ups or even evening cocktails!
What's more is that there are kitchen bar stools available that can be adjusted, giving this space a more informal look and feel. There are so many chairs on the market that can be adapted to any style.
As we will soon find out, your bar doesn't always necessarily have to be in the kitchen either.
Today, we are going to look at 8 bars that are easy to copy so that you can get some inspiration for your own home!
Let's take a look!
Use the kitchen bar to separate spaces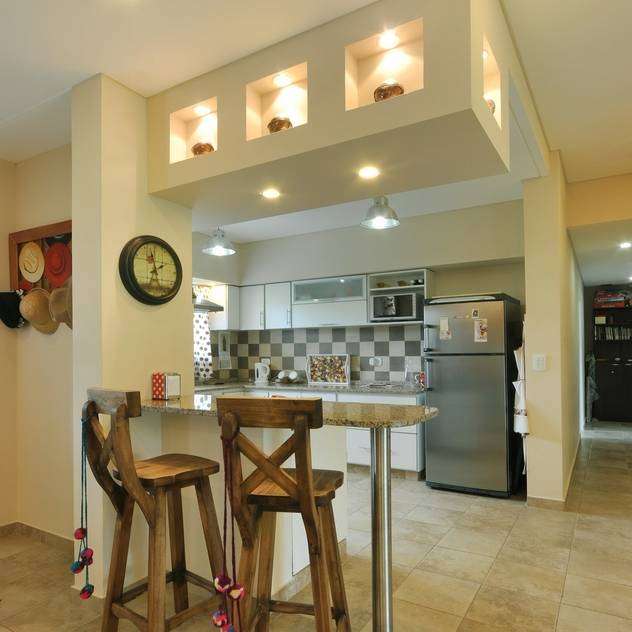 By Opra Nova
Designing a kitchen bar or mini-bar at home is not just about the bar itself. Use it to subtly separate the kitchen from the rest of the living area.
Classically inspired and well-equipped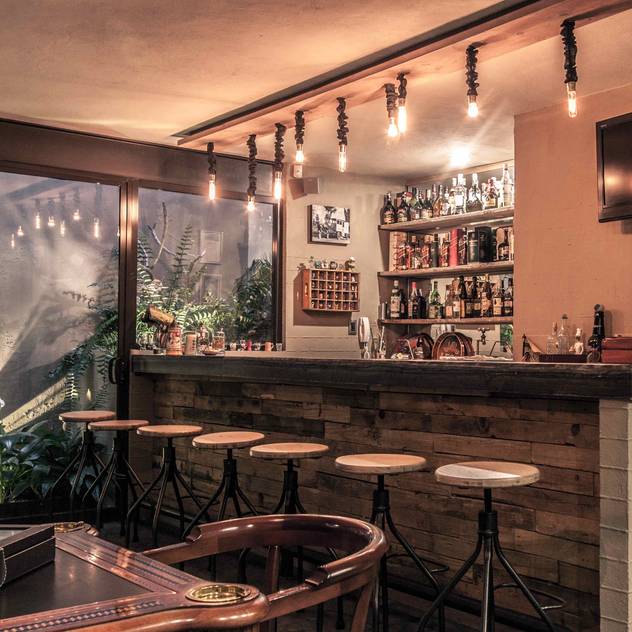 By Loyola Arquitectos
This kitchen bar has been designed with a classically inspired rustic air. It opens up onto a well-stocked bar area, with a range of spirits and cocktail mixes. There are also bar accessories, shakers, cups and glasses.
This very unique and stylish design enhances the home, while giving guests a special and cosy corner to relax in. A poker table completes the look and feel of this space.
Modern and minimalist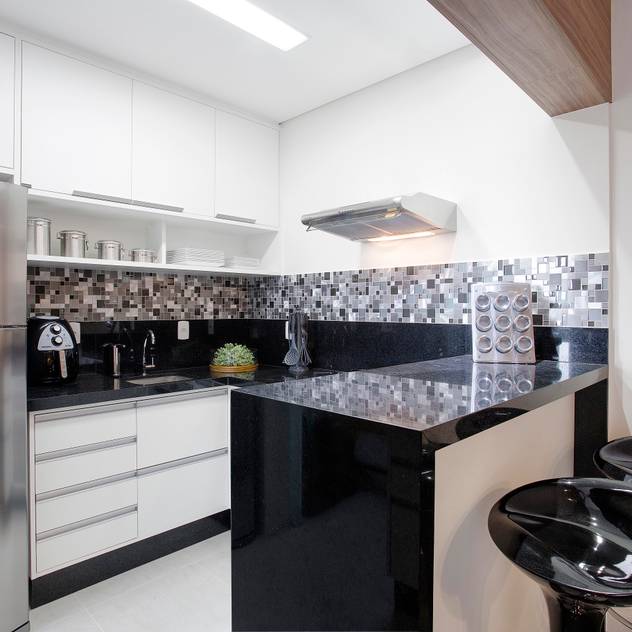 By Andressa Saavedra Projetos e Detalhes
A bar does not have to feature many elements to make it look beautiful. Go for simple and minimalist for the most sophisticated design.
Enhance the bar with LED lighting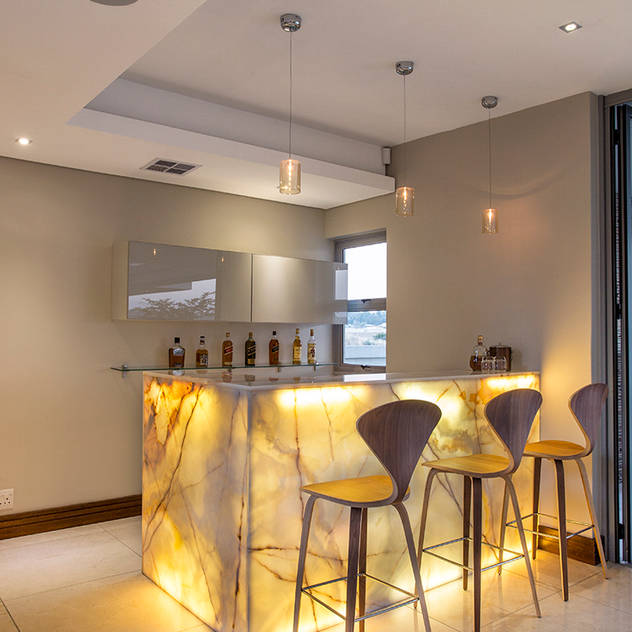 By Francois Marais Architects
In this design, by professionals Francois Marais Architects, we can see how the bar is enhanced and illuminated with LED lighting.
The designers have gone for a very elegant and luxurious looking material in this space, which looks simply stunning when lit up. This is a very appealing little space!
Sober and discreet design
By Ergo Designer Kitchens and Cabinetry
This modern, sober and discreet design creates a very exclusive space that is perfect for a kitchen or for pouring a special drink. It also enhances the living space.
Tip: Add shelves for some ideal storage space, while still keeping your favourite glasses or whiskeys on display.
The braai bar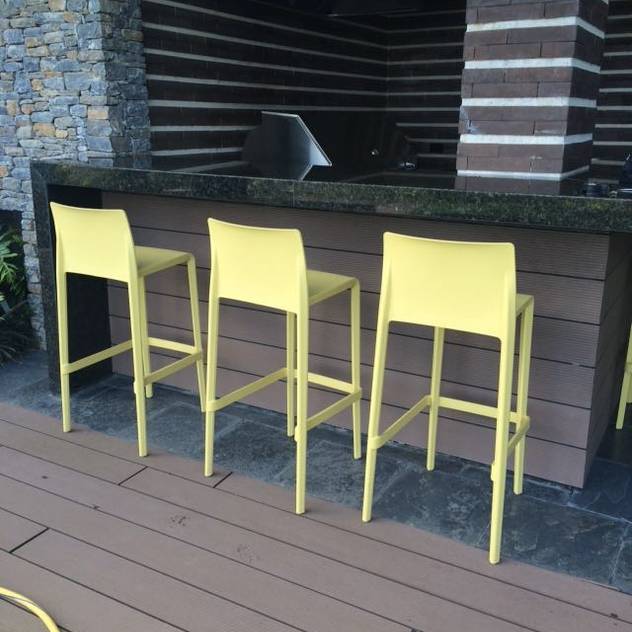 By THE muebles
This outdoor design brings the kitchen to the garden with a very casual look and feel! It's perfect for an outdoor kitchen or braai area.
The granite counter tops makes for a very durable design, while the dark wood adds warmth to the area.
Fusion of style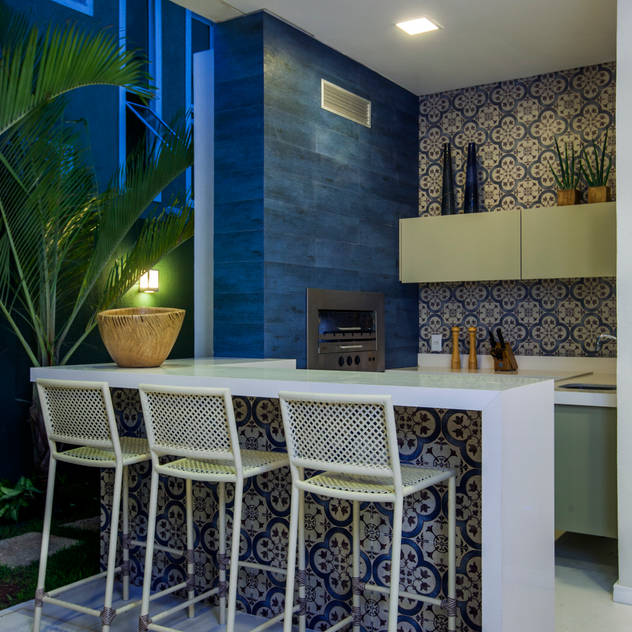 By Eveline Sampaio Arquitetura e Interiores
In this kitchen design, we can see how blue tones have been paired with vintage tiles, creating a gorgeous Mediterranean style. This is enhanced by the exotic and natural vegetation, which creates a subtle yet tropical environment
The LED lighting illuminates the details of the kitchen and bar, introducing a modern touch.
This is a true fusion of style, which is very welcoming!
Adjustable bar chairs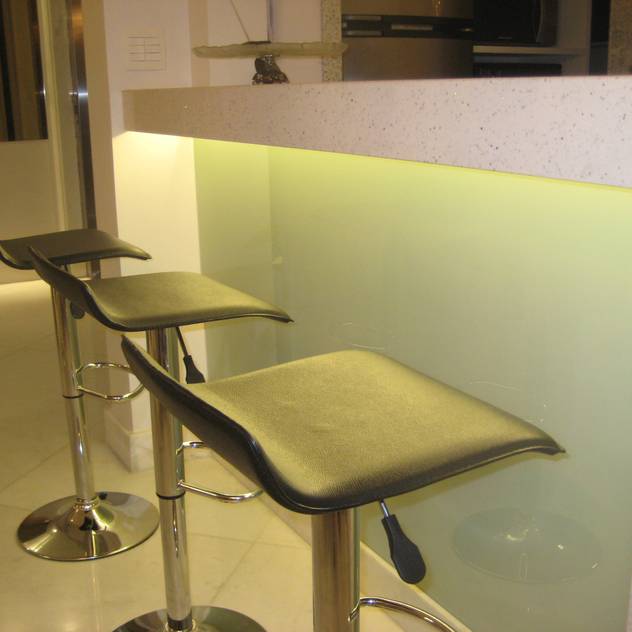 By Das Haus Interiores
You want your bar chairs to last you for many years to come so they should have a timeless style. You also want to be able to use them in any space.
This is why it's a great idea to invest in chairs that can be adjusted in terms of height. Choose modern chairs that are simple and sleek!